With Adjusta-Door, you get what you expect from a quality security door, along with incredible adjustability you'd never expect from one. Here are a few reasons why your next security door should be Adjusta-Door.
It's designed to fit on the spot,
without the hassle of measure and quotes
and wait times.
Adjusta-Door fits door frames between:
You can adjust each corner
by 25mm in width and height,
with a few turns of an Allen key.
There's no cutting required!
It's so easy, you can do it yourself.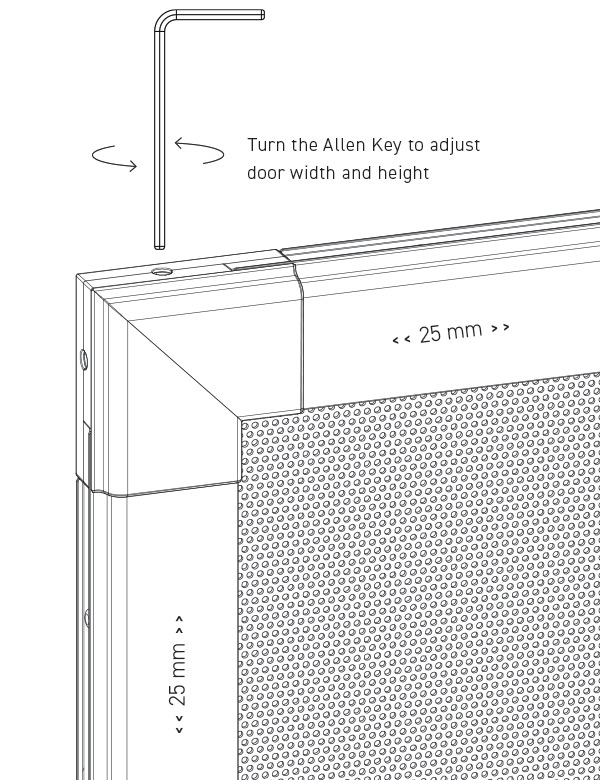 It's ready-made, so you can buy and install the same day!
Watch how easy it is to install...
Adjust it ongoing for unexpected foundation shifts
and seasonal house movements!
Seasonal temporary weather changes can affect your home's foundation. Dry spells and winter freezing cause the soil to shrink and pull away from the foundation and can cause movement.
Movement can produce unsightly reveal gaps between your security screen door and door opening. It can also cause your door to become increasingly difficult to open and close.
If you don't have an Adjusta-Door, you will need to reset strike plates and hinges, shave door jambs or even buy a replacement door!
With Adjusta-Door, a quick allen key adjustment will reset your door to your door opening. Saving you time and money.
Adjusta-Door ticks all the boxes
It delivers strength, security, clarity of vision,
is extremely resistant to corrosion and easy to clean.